1. High fever dizzy, upset, blood spit. This product Xiehuo detoxification, You Shan Qing Xie heart through the real fire, can be used to cure the heart of the fire caused by dizziness, irritation. If with Astragalus, Phellodendron, wolfberry fruit, can cure Sanjiao heat Sheng, high fever and irritability; if with plaster, Zhigeng, Scrophulariaceae, paeonol and other medicinal purposes, can cure high fever and faint, such as the Qing Yi Bai Du Yin ("epidemic A rash can be given); If with medicinal herbs such as Astragalus membranaceus, Bletilla striata, Ejiao, etc., it can treat heat-your-burning yin and upset your heart, such as Huanglian Ejiao Decoction ("Treatise on Febrile Diseases"); if it is accompanied with cinnamon, it can cure heartburn. , The heart and kidney do not pay attention, such as Jiaotai Pills ([Four Simple Efficts"); if the combination of rhubarb and radix astragali, can be cured within the fiery fire, and the vomiting of the blood and urine of the blood, such as Xiexintang .
2. Hot and humid diarrhea. This product is good for spleen and stomach, large intestine, dampness, and it is effective for treating diarrhea. If with woody incense, it can cure dampness and heat diarrhea, abdominal pain, urgency and weight, such as Xiang Lian Wan ("Bing Bing hand set side"); If with Pueraria, Astragalus and other medicinal purposes, can cure dampness and heat diarrhea and table fever, such as Pueraria Huang Qi Huanglian Soup ("Treatise on Fever"); if formulated with ebony, can cure hot and humid diarrhea pus blood for a long time, such as Huang Lian Wan ("Wai Tai Mi Yao").
3. Hot and humid full, vomiting and sour. This product is big bitter cold, clear heat and dampness is greater than the yellow peony, especially longer than the Qingzhongzhong hot and humid. Treatment of damp-heat block in the coke, gas machine due to poor abdominal fullness, nausea and vomiting, often with Su Ye, such as Su Ye Huang Lian Tang (square "warm latitude and longitude," see "TCM gynecology"), Or with astragalus, dried ginger, Pinellia use, such as Banxia Xiexin Tang ("Treatise on"); If used with plaster, can cure stomach heat and vomiting, such as Shi Lian San ("Fairy"); If with Wu Hao ,Can cure stomach fire caused by threatening rib pain, vomiting and swallowing acid, such as Zuojinwan ("Danxi heart method"); If with ginseng, Atractylodes, ginger and other medicinal, can cure spleen and stomach Deficiency, vomiting acid water , such as Lian Tang ("cause of the disease").
4. Bloated acne, dark eyes and toothache. This product can not only heat and dampness, but also Xiehuo detoxification, especially drug treatment of venom. It is used to treat phlegm and phlegm. It is often used together with Radix Astragali, Phellodendron, and Gardenia, such as Huanglian Jiedu Decoction ("Taiwan Mystery"); if it is served with light bamboo leaves, it can cure redness and swelling of the eyes, and red veins bleed, such as berberine. Soup ("Puji Party"); If with medicinal herbs such as Rehmannia glutinosa, Cimicifuga, Dan, etc., it can cure upset stomach fire, toothache is unbearable, such as Qingwei San ("Lang Room Secret Collection").
5. Diabetes. This product is good at clearing stomach fire and can cure stomach fire flaming, eliminates valley hunger of the thirst card, often used with Ophiopogon, such as governance Xiaoke pills ("Pu Shi Fang"); or with Cork to enhance the fire Xie Forces, such as Huang Bo Pill ("San Ji Zong Lu"); if the allocation of rehmannia, can be used to cure kidney yin deficiency, heart and stomach fire thirst, such as Huang Lian Wan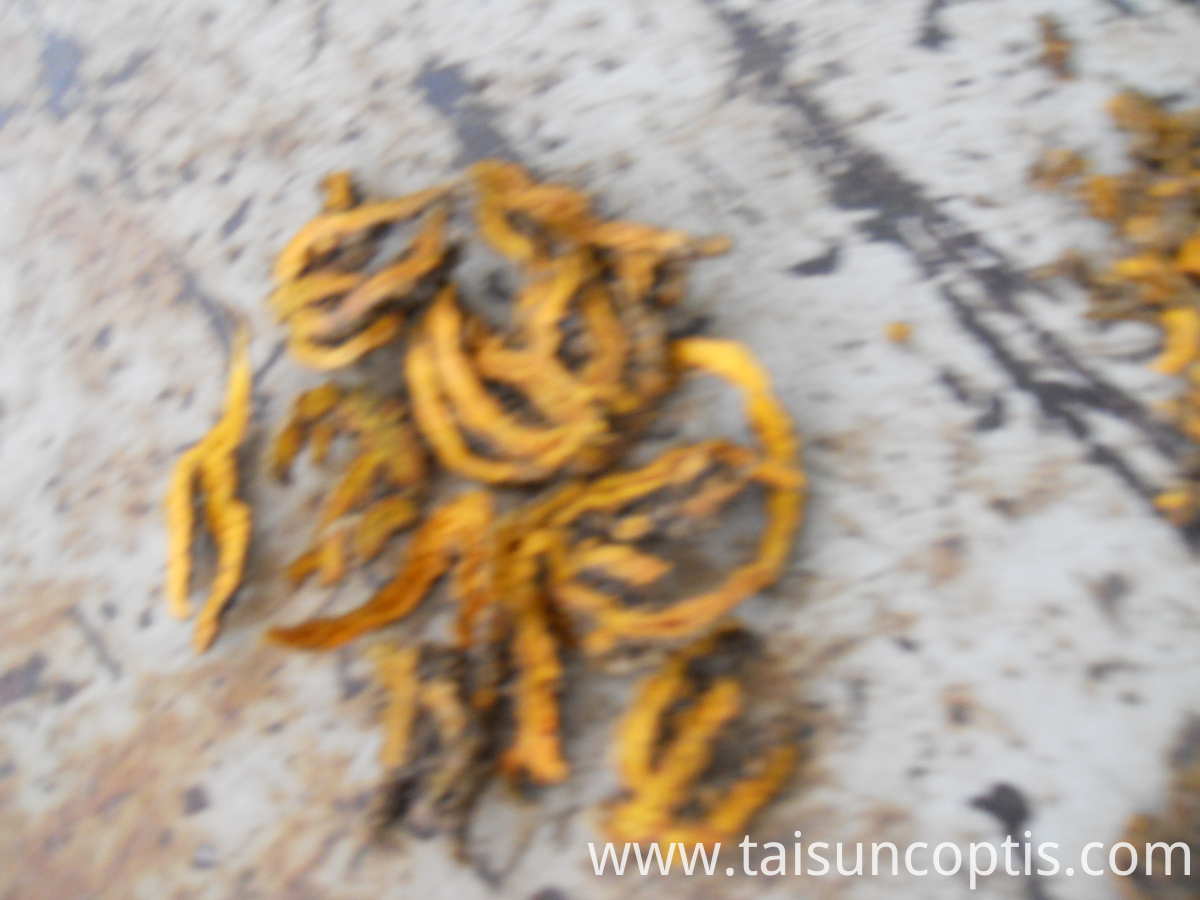 Looking for ideal
Coptis
and Scute Coptidis Manufacturer & supplier ? We have a wide selection at great prices to help you get creative. All the Coptis Chinensis Coptis Rhizome are quality guaranteed. We are China Origin Factory of Great Saussurea Coptis Scute Coptidis. If you have any question, please feel free to contact us.
Product Categories : Coptis > Traditional Herbal Coptis